Margaret Gilmore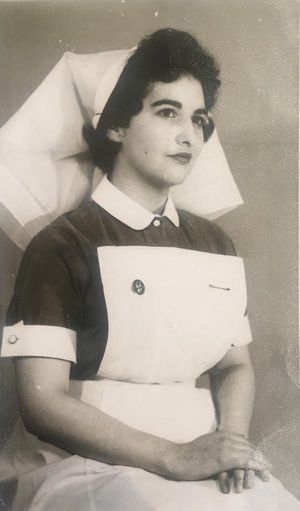 John Lennon by Yoko Ono's hospital bed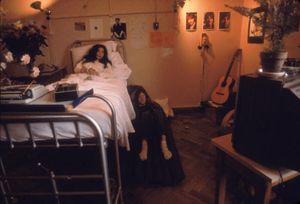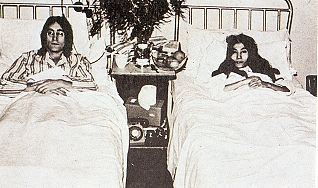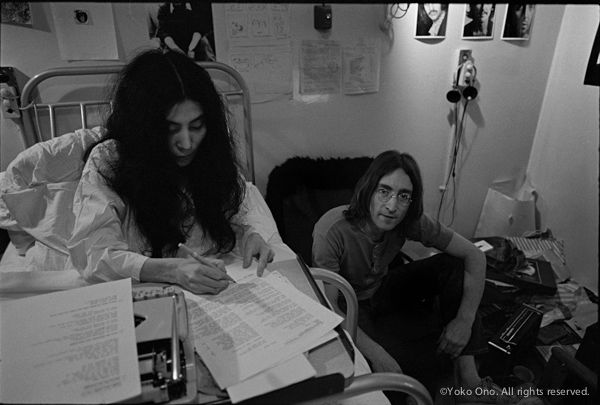 I'm the youngest of 8 children. I have 7 amazing brothers and sisters, who had a massive influence on me as I grew up in Belfast in the 1970s and 80s. For me, there is something very secure about coming from a big family. As the youngest, you need to do something to get noticed, otherwise you would just get left behind. How fortunate then, that I like to show off, or as my friends affectionately call it "being an annoying wee shit" 
There was always music playing in our house. The songs of Simon & Garfunkel, Cat Stevens, Neil Young, echoed through the rooms and I knew from a young age that I had music!! That's a hard one to explain, but let me try. As a very young child, I could sing in tune to a song on the radio and bang a child's drum or tambourine in time to the music. 
Now, I'm not saying this makes me some sort of Mozart, but I knew that not everyone could do this. At a recent family get together, we all fell around laughing as my cousin, Teresa, tried in vain to play the tambourine in time to the music. Hilarious!! 
In 1974 my brother Francis got a summer job and started to buy lots of music. Two albums that had a big influence on me were The Beatles Red & Blue greatest hits.  Again, it's hard to explain, but I think I fell in love with the band!! It's a bit like becoming a parent; You simply fall in love with your children and can't explain why (I know that sounds very soppy) 
I was the first to put to bed every night and asked my brother Francis to play the music really loud. So, as the house vibrated to the sounds of a big family getting on with its day, I would fall asleep to the songs of Lennon and McCartney.
Music is just noise waves moving through the air. The waves that The Beatles created, with those gingelly gangly guitars, harmony vocals, and catchy melodies really hit me and shook me to the core. 
Anyway, The Beatles are the BAR that I have used to measured music ever since. 
I started to learned guitar when I was 10, and just wanted to play Beatle songs. Not the easiest band to learn guitar from, especially in the years before the Internet.
As a teenager, when my friends were into The Jam and The Clash, I was wearing a Beatle jacket, and being called all sorts of names for liking an old band from the '60s. "Cunningham, you look like a dick in that coat"
Interestingly, when John Lennon was shot in 1980, it became fashionable to like The Beatles. 
My Auntie Margaret was born in 1935 and trained in Belfast as a nurse. She knew I was a big Beatle fan, and told me one of her patients was Yoko Ono. She worked in some very prestigious private hospitals in London in the 1950s and '60s. A pregnant Yoko Ono was admitted to the Queen Charlotte's Hospital London, but sadly a few days later, she had a miscarriage (21st November 1968).  Just before the miscarriage, the fetal heartbeat was recorded. It was included in Lennon and Yoko's 1969 album Life With The Lions, followed by two minutes' silence. 
John Lennon stayed by her bedside and ended up sleeping on the floor of her hospital room. So impressed were they with the care Margaret gave them, that they gave her a signed copy of a recent album. The handwritten note on the cover read, "To Margaret, thanks for everything, from John and Yoko"    
Now, a couple of things to keep in mind here; I'm pretty sure she wasn't a Beatle fan, Frank Sinatra was more her cup of tea, also I can't see her being that fussed on John Lennon. That being said, I was really excited to think there might be a signed copy of a Beatle album in our family. Now here's the kicker. 
This was November 1968, and the signed album was probably not the latest release from the Fab Four but the controversial Two Virgins record, which was released on the 11th of November that year. 
The album was controversial because it had naked photos of John and Yoko on the cover. Auntie Margaret wouldn't have been impressed with that at all. So, she gave it away. 
I thought she gave it to one of my cousin's in London, who sold it for £10 in the Portobello Market. After asking around the family, none of my relatives has any recollection of getting the album. I then heard she gave it to the son of her landlord. Anyway, it's gone. 
I know this will have been an awful time for the Lennon's, but I would love to know what happened to that album. Sadly, my auntie Margaret died in 1995, so I obviously can't ask for more information. I have crawled the Internet to try and find it, which is like looking for a needle in a haystack. The value of a John Lennon signature is anywhere from £1,000 to £100,000. But it's really not about the money. I'm so pleased that Margaret was there to help the Lennons in their time of need, so much so that John gave her a signed copy of his album. (does that make me fickle? answers on a postcard)
Anyway, if you happen to come across a signed copy of a John and Yoko or Beatle album reading "To Margaret from John and Yoko, thanks for everything"  please drop me a line. I would love to see it. Contact details below
PS. Below is my version of "Don't let me down" which John Lennon wrote for Yoko Ono. I love this song and was really pleased when I got a chance to record my version, live at the Duncairn Centre in Belfast, with the most amazing bunch of musicians.
Michael Cunningham
Facebook
https://www.facebook.com/michaelcunninghammusic/
Twitter
Two Virgins